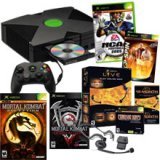 Thomas Biskup recommends: XBox Console
"Yes, I confess it - Microsoft has brought me back into console gaming. And there's a simple reason for it: I don't like hardware, I don't like fiddling with systems and I like to take it easy. The XBox system IMHO is as easy to use as its get. You have a built-in hard disc and never have to think about extensions to be able to save games (memory sticks, yikes :-P ), the games are great, the graphics are great and the price is ok. I have spent many hours playing Star Wars Battlefront and Fable and intend to continue doing this. So for me this is a safe bet and I surly will by the XBox 360 as soon as it is available. Of you want a simple console system with great games you can't go wrong here."
More details about this item can be found here: United States, United Kingdom, Canada, Germany.
Please support this website by going to Amazon through one of the links on this website (if you want to shop at Amazon at all that is ;-). It doesn't cost you any surcharge, but provides me with ADOM-related income. Thanks!
A complete list of my reading recommendations is available here.